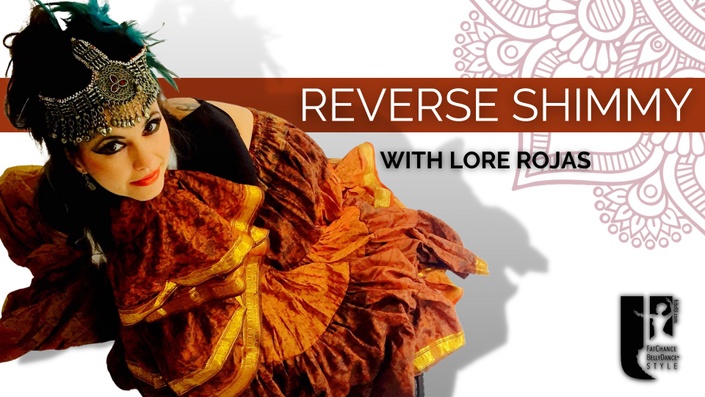 Reverse Shimmy
Technique and Drills for this Challenging Step
The Reverse Shimmy can feel like such a challenge compared to our regular shimmy.
In this class, Lore breaks down all the details and leads you through a variety of drills and shows you how to have a party in your hips!
Feel envigorated and excited about the Reverse Shimmy with this Intermediate Level class.
Please note: By enrolling in any of the courses on FCBD®U, you are agreeing to our Terms and Conditions
Your Instructor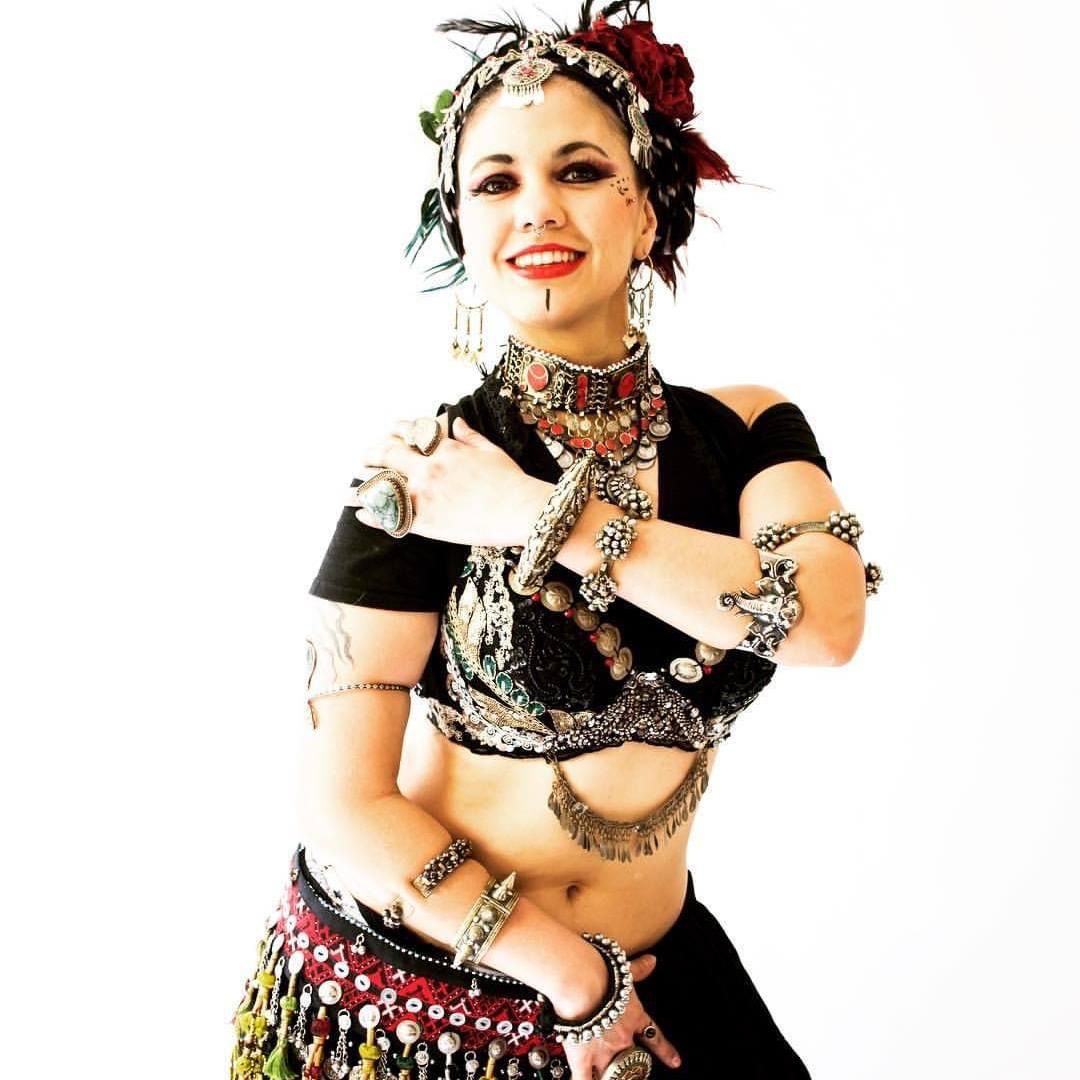 Instructora y Danzarina certificada como maestra de Datura Style™, instructora avanzada de Fatchancebellydance (FCBD®) y fusionista de mi propio estilo "Kinitri" mis declaraciones danzadas a lo largo de más de una década.
Desde la infancia descubrí que lo mío era la expresión en movimiento iniciándome con danzas polinesias al lado de mi madre y mi hermana lo que hizo de esto una forma de vida.
Fui afortunada de re-encontrarme con la danza independiente. En mis 20's me encontré con el antes conocido como fusión tribal con un primer contacto al conocer a las bellydancers superstars y aprender de forma autodidacta, después tomando talleres internacionales encontré mi primer tribu MEM.
Soy parte de la primer generación de fusionistas de México, miembro Co-fundador de lo que fue Siete Tribales Mexicanas 7TM, Mujeres en Movimiento (MEM), Pacha Mama, directora de Proyecto Gea, fundadora de Black Tulips y de Dakinitri Estudio Mx en la Ciudad de México.
Así como el proyecto documental y experimental Medusa Nómada.
He participado en numerosos eventos importantes dentro y fuera del país como tallerista y bailarina (India, Brasil, Ecuador, Argentina, España, Japón, México y EU entre otros) en festivales internacionalmente importantes como el Tribalfest primero en su género a nivel mundial, así como en la mayoría de las ediciones de lo que fue el Festival Tribal Internacional de la Ciudad de México.
Por 10 años produje "Sueño Tribal" plataforma para impulsar tanto talento mexicano como internacional para difundir el bellydance tribal en México.
Imparto clases y seminarios en México, el extranjero y actualmente SESIONES EN LÍNEA.
Mi motivo esencial es el de cultivar la disciplina y pasión por el arte en movimiento y conexión con otros afines que puedan nutrirse con este espacio. En mi camino he sido testigo de la liberación de limitaciones físicas, mentales y emocionales, además del empoderamiento y creatividad de muchos seres a los que ha llegado este movimiento.
Danzar fomenta disciplina, equilibrio y sobre todo crea comunidad y conexión con otros seres, amo esta danza por que nos ayuda a reconocernos en el otro contribuyendo a evolucionar haciendo algo más grande que nosotros mismos en conexión con el todo.
Frequently Asked Questions
When does the course start and finish?
The course starts now and never ends! It is a completely self-paced online course - you decide when you start and when you finish.
How long do I have access to the course?
How does lifetime access sound? After enrolling, you have unlimited access to this course for as long as you like - across any and all devices you own.
Terms and Conditions:
The website is owned by DeAnna Freeman and Prana BellyDance and Yoga, LLC

By viewing this website or anything made available on or through this website, including but not limited to [PROGRAMS, PRODUCTS, SERVICES, OPT-IN GIFTS, E-BOOKS, VIDEOS, WEBINARS, BLOG POSTS, E-NEWSLETTERS, CONSULTATIONS, E-MAILS, SOCIAL MEDIA AND/OR OTHER COMMUNICATION][INCLUDE ALL THAT APPLY TO YOU] (collectively referred to as "Website"), you are agreeing to accept all parts of this Disclaimer. Thus, if you do not agree to the Disclaimer below, STOP now, and do not access or use this Website.

1. FOR EDUCATIONAL AND INFORMATIONAL PURPOSES ONLY.
The information provided in or through this website is for educational and informational purposes only and solely as a self-help tool for your own use.

We think this goes without saying, but as a reminder, this is physical exercise and while our instructors be guiding you through each and every step, it is an online course so we are not able to physically see you to correct movements. We trust everyone to work to their own edge and take breaks or back off intensity as needed.
We recommend you consult with your physician before beginning any exercise program. You should be in good physical condition and be able to participate in the exercise.
If you engage in this program, you agree that you do so at your own risk, are voluntarily participating in these activities, assume all risk of injury to yourself, and agree to release and discharge DeAnna Freeman and all instructors on this websute from any and all claims or causes of action.**

2. NOT MEDICAL, MENTAL HEALTH, OR RELIGIOUS ADVICE.
Instructors of FCBDU are not, and not holding ourselves out to be a doctor/physician, nurse, physician's assistant, advanced practice nurse, or any other medical professional ("Medical Provider"), psychiatrist, psychologist, therapist, counselor, or social worker ("Mental Health Provider"), registered dietician or licensed nutritionist, or member of the clergy. As Health Educators, Yoga Instructors and/or Dance Instructors, we are not providing health care, medical or nutritional therapy services, or attempting to diagnose, treat, prevent or cure any physical, mental or emotional issue, disease or condition. The information provided in or through this Website pertaining to your [HEALTH OR WELLNESS, EXERCISE, NUTRITION, RELATIONSHIPS, MENTAL HEALTH, LIFESTYLE], or any other aspect of your life is not intended to be a substitute for the professional medical advice, diagnosis or treatment provided by your own Medical Provider or Mental Health Provider. You agree and acknowledge that we are not providing medical advice in any way. Always seek the advice of your own Medical Provider and/or Mental Health Provider regarding any questions or concerns you have about your specific health before implementing any recommendations or suggestions from our Website.
3. INDEMNIFICATION AND RELEASE OF CLAIMS.
You hereby fully and completely hold harmless, indemnify and release me and any of my agents, consultants, affiliates, joint venture partners, employees, shareholders, directors, staff, team members, or anyone otherwise affiliated with my business or me from any and all causes of action, allegations, suits, claims, damages, or demands whatsoever, in law or equity, that may arise in the past, present or future that is in any way related to this Website.

4. NO ENDORSEMENT.
References or links in my Website to the information, opinions, advice, programs, products or services of any other individual, business or entity does not constitute my formal endorsement. We are merely sharing information for your own self-help only. We are not responsible for the website content, blogs, e-mails, videos, social media, programs, products and/or services of any other person, business or entity that may be linked or referenced this Website. Conversely, should this website link appear in any other individual's, business's or entity's website, program, product or services, it does not constitute my formal endorsement of them, their business or their website either.


If you have any questions about this Disclaimer, please contact us at [email protected]